Your purchase includes:
1. One personal registration key (receive it instantly)
2. One year of upgrades and technical support
3. Unlimited use of the version you purchased
4. Encrypted secure order process
5. Recoverable license (if you lose it, just ask us)
6. Lowest price guarantee (you find cheaper, we refund the difference)
7. Optional: we ship you the CD in a DVD box. Make sure you check the box 'Contenta CD' during order

Totally risk free. After purchase, you have a 30-day money back guarantee. No questions asked.
License terms:
Single license is for one user only for personal or business use. Can be installed on up to two computers owned by user

Family license is for personal use only. Can be installed on up to five computers owned by user and/or his or her family members

Commercial license is for personal or business use. Can be installed for up to 10 computers for 10 different users that belong to the business
Preview of the 'Contenta CD':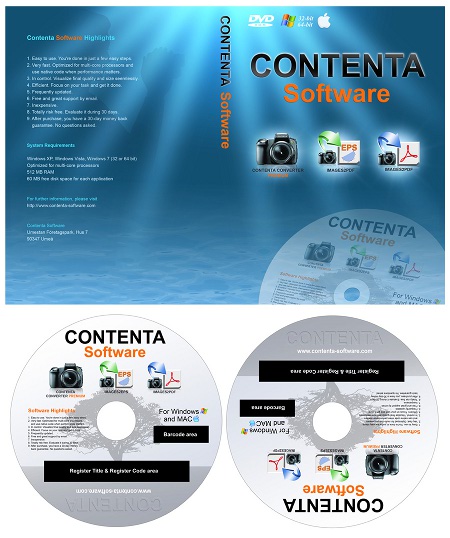 Frequently asked questions:
How to register?
When you have your download link and registration code, do the following:

Download and install Contenta Converter
Run it
Select in menu: Register->Register
Paste your email adress and personal registration key
Click on the button 'Register'
You are done. Your software is successfully registered!



I registered my product but the watermark still appears on the photos. How do I remove them?
After successful registration, please delete watermarked photos and you can convert again from originals. There will be no watermark now.


I am a customer. I lost my registration key. I want to know when my license expires. I want to download the software I purchased again.
Please go to the customer area and enter the email you used during purchase. You will find all the information you need.


What happens when my license expires?
Basically, nothing. The software you purchased is still yours forever. However, if you wish to upgrade to the latest version, you will have to renew your license.


My license is still valid. How do I upgrade the program?
The best way to do it is to make sure the program is closed, then install it at the same location and overwrite the old version. You may need to register again, but most probably not.


My license has expired and I want to upgrade my program. How do I renew my license?
Go to the customer area. We make it easy for you to do so... and at a special rate.